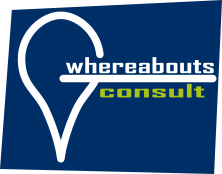 Whereabouts Consultants is a company owned and managed by J. Gabriel Van Wyk.
The company employ senior professionals capable of offering advanced services to clients with a special focus on data science and location solutions.  In addition, the company has set up strategic partnerships and joint ventures with other companies to provide a wide range of services.
We are strictly vendor-independent, and we have a narrow focus on best fit solutions rather than specific product ranges.  We work within the boundaries set by our client's realities in terms of existing technology stacks, budget and resources constraints.
We love difficult data science challenges and have excelled in the delivery of complex tasks such as:
Process Improvements
Data Integrity and Data Audits
Data Mining and Analysis
Data Model Mapping
Bulk spatial accuracy improvements / shift management
Standards integration
Systems Integrations
Cloud based solutions
We believe in making a difference!
MISSION STATEMENT
Whereabouts Consulting's mission is to:
Provide high-quality, affordable solutions
Create and cultivate long-term relationships with clients
Respond immediately to the changing needs of our clients
Achieve complete customer satisfaction
Improve our services continuously
Vision
The vision at Whereabouts Consulting, is to offer the highly trained and efficient team of consultants, quick to respond to customer needs and concerns.
Mission
At Whereabouts Consulting we are committed to the highest quality customer service.  Our objective is a commitment to client satisfaction, reached through innovative consulting with a focus on cost effective solutions.
Values
At Whereabouts Consulting, there are several values which we hold in high regard, and we expect these values from anyone who joins the team or whom we partner with.  These values are charity, fortitude, honesty, integrity, loyalty, reliability, restraint and trust. Many people share these values, but we believe that what sets us apart is that we are prepared to answer to these values.
In addition to the above soft values, we also hold to some 'harder' values.  We value the environment and the planet that we live on.  We will measure ourselves against practices that are best – first in relation to the care that we provide the earth, and then in relation to the broader industry.
Philosophy
At Whereabouts Consulting we aspire to respect all, collaborate where we can.  We hold 'Openness' (Open Data, Open Source, Open Knowledge).  At the same time, we seek to find business models that work over the longer term for all involved.
Focus Areas:
We are location specialists.  If position on earth matters, we are interested.  Note – we believe that location is more important than most people are aware.
Standards development and implementation.
We have a depth of experience, mixed with an understanding of where modern and future technology trends will take us.  This allows us to develop clear strategies to help get YOU there.
Across-the-board productivity improvements are crucial for the modern day organisation in order to support growth without increasing staff costs.  We can assist to align different business units to deliver mobility, collaboration, CRM, business intelligence and Spatial capabilities.
Need to delve deeper?  Not content with pat answers and polished sales talk?  We can help you research your problems and solutions.  We are not selling any systems – we remain vendor independent so we can afford to be more objective.
Data is everything, yet incomplete data can be crippling.  We can provide a range of data capture services.  From mobile teams to off-shore clean-up, we have a solution that fits.
So where are the gaps in your systems, processes and technology stack?  We will perform end to end data audits to help you find an plug them.
We specialise in Location-Based Asset registries.  We also collaborate with some of the best Asset Management systems to help you analyse, and clean up your data.
GIS was the first tool for 'data mining'. Spatial Location still provides Business Intelligence.
Principal

The Principal of Whereabouts Consulting is J. Gabriel van Wyk.  Commonly know as 'Gaby', he is recognised as a prominent figure in the Australian Spatial Industry, where he plays an active strategic, consulting role.